Client:"...and what's your name again?"
Me:"Joshua."
Client:"...are you sure?"
Me:"Yes ma'am."
ME ON THE INSIDE:" NO!APRIL FOOLS U RACIST BIATCH! IM JUST PRETENDING TO BE A BLACK MAN NAMED JOSHUA! HA FOOLED YOU ! MY REAL NAME IS BRAHEEMALIKASHEED. BET YOU BELIEVE THAT!....

...back to work.

Powered by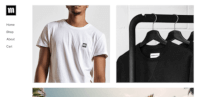 Create your own unique website with customizable templates.